Overview
The Everest Base camp trek is an opportunity of a lifetime. This journey is specially designated for travel enthusiasts with high aspirations. It is a wonderful opportunity to bask your spirit in the tranquil natural scenery. The trail to the Everest base camp will take you through the sheltered monasteries, and high-suspension bridges. You are bound to be taken aback by the astounding views of the majestic mountains including; Mt. Cho Oyu, Mt. Lhotse, and Mt. Makalu.
You will find an all-inclusive comprehensive guide to the Everest base camp trek in this article, from helpful trekking tips, alternative trekking routes, planning and preparations, and much more. If you are an experienced trekker or a beginner, this all-encompassing guide will be helpful for you regardless.
Where is Everest Base Camp?
Mount Everest is the world's highest mountain and part of the Nepalese Himalayas, standing at 8,848m above sea level. Mount Everest location, is situated in the Himalayas, on the border between Nepal and Tibet. Everest Base Camp is either one of two base camps on either side of Mount Everest. South Base Camp is located in Nepal at an altitude of 5,364m and North Base Camp is at 5,5150m in Tibet. These camps are primarily used by mountaineers to ascend and descend the World's highest mountain. The EBC trek on the Nepalese side (South side), is one of the most popular trekking routes in the Himalayas, and the destination of our Everest Base Camp Trek.
Everest Base Camp Trek Permits
Mount Everest, lying in the Everest Base Camp is also a UNESCO enlisted world heritage site. You will require a total of two permits to reach the Everest base camp. They are the Khumbu Rural Municipality permit and the Sagarmatha National Park Entry permit.
Khumbu Rural Municipality Permit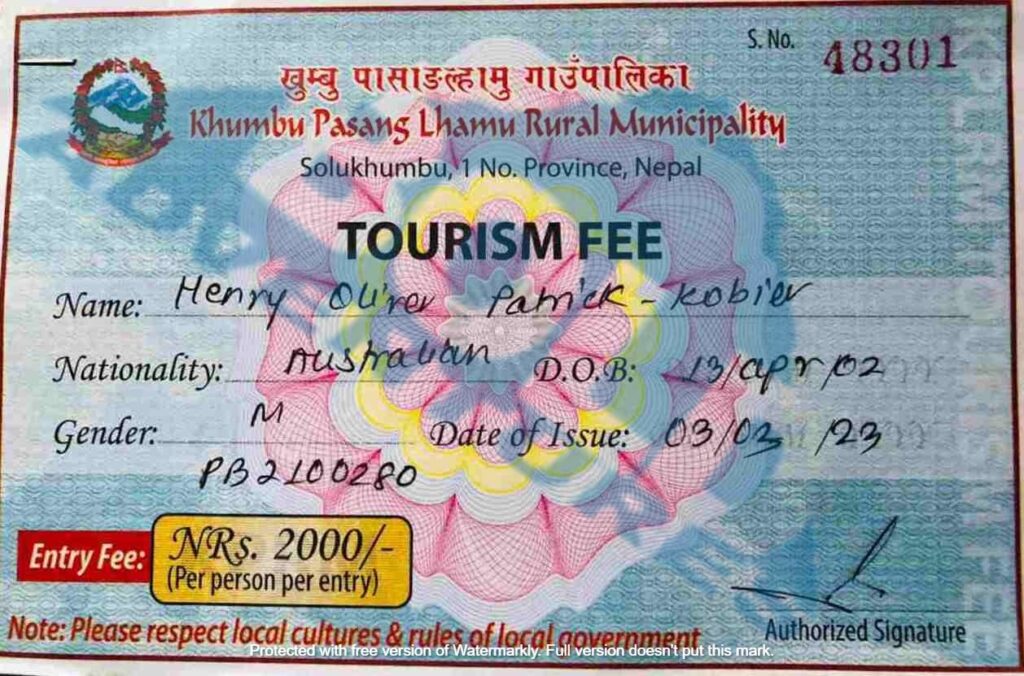 Foreign nationals can obtain their Khumbu Rural Municipality Permit by paying NPR 2000 per person for the initial 4 weeks. After these 4 weeks; the price of the permit rises to Rs 2500 per person. You need your passport to acquire this permit. If you are taking a flight to Lukla, you will receive this permit upon arriving at Lukla. The trekkers coming from Jiri or Salleri to the Everest region can acquire this permit in Monjo at the Sagarmatha National Park counter.
Sagarmatha National Park Entry Permit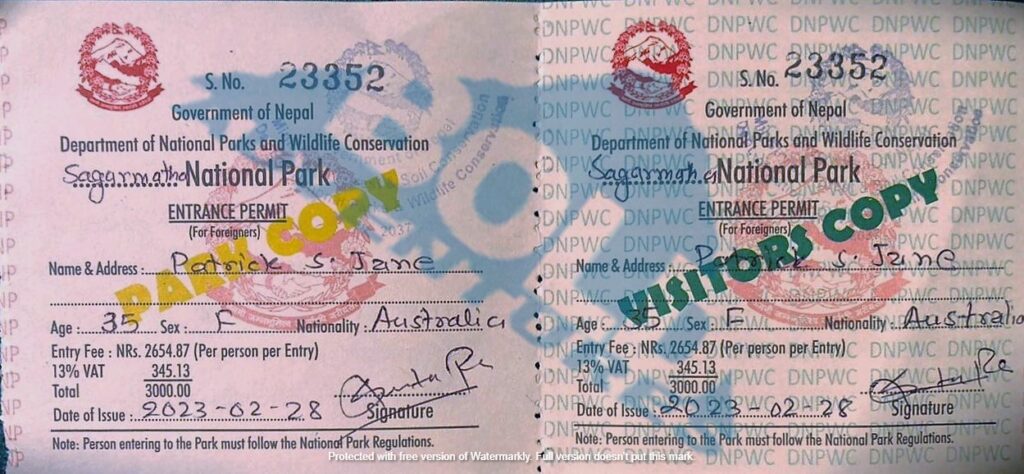 Foreign Nationals can acquire this permit by paying NPR 3000 per person. However, Foreigners from SAARC countries must pay NPR 1500. Nepalese need to pay NPR 100 with 13% added VAT. Children under age 10 are entitled to free entrance. You need to show your passport to obtain this permit.
Insurance For The Everest Base Camp Trek
Trekking to the base of the world's tallest mountain is enthralling and exciting. However, high risk is associated with it. We will discuss the importance of the Everest base camp trek insurance in detail.
Everest base camp trail includes remote regions of Nepal. It is a dangerous trek, hence, it involves a lot of risks. There are numerous reasons why you need insurance for the Everest base camp trek.
Let's discuss some potential scenarios that might occur during the trial;
Insurance will help cover your belongings in unwanted incidents such as loss, theft, or damage.
There are numerous health risks that might occur while on the trail so if you have travel insurance then it will help cover your emergency medical treatment
Insurance can also help cover the cost of your flight cancellation and interrupted travel arrangements.
Your insurance should cover your medical treatment and evacuation, Trip cancellation or Interruption, Theft or loss of belongings, and Travel assistance.
Preparing For The EBC Trek
Your training for the Everest base camp trek must include improving strength endurance, cardio endurance, and feeling comfortable in carrying a day backpack uphill for a long duration of time. You should begin taking longer walks and hiking for some time at least 8-12 weeks prior to the actual trek. You must be able to walk for around 5-6 hours that too taking minimal breaks. You might want to consider these tips before prepping for your trek.
If you cannot find significant hills or mountain terrains in your area then you can walk hill intervals on a stair or treadmill 2 times per week. Most people will benefit from completing a full-body strength workout 2 times per week.
Check-in with your doctor before taking a physically challenging trek like the Everest base camp trek. You can follow through with this article to find the proper tips on preparing for the trek.
Train In Scenarios As Close To The EBC Trek As Possible
The best possible way to train for the EBC trek is by trying to replicate the scenarios as much as possible. Like; as wearing your trekking boots, carrying your backpack with some weight, hiking for a long duration, and also practicing elevation loss and gain. This will help you immensely for the actual trek to the Everest base camp.
Receive Your Gear Early
Be sure to get your trekking gear as early as possible. Be it hiking to the local trails or running errands, you can wear your trekking boots to get used to them. Make sure that the boots are comfortable for walking for around 6-7 hours daily. If you are feeling any inconvenience in those boots then you have to consider exchanging them for a better-fitted size.
The same goes for your backpack. Receive them early and carry them in your practice hikes. Add some weights as well and practice carrying them to your hikes. This will help you a lot in your actual trek as you will be fully prepared.
For a complete guide to packing for Everest Base Camp, check out our helpful Everest Base Camp Packing List.
Doing Cardio Training 2-3X Per Week
Cardio workouts; be it walking, jogging, swimming, or cycling will be the most effective training for your trekking. It will help your body adapt to less oxygen. This will also improve your focus at high elevations and help you enjoy the hike more.
You can easily develop your cardio endurance with even simple workouts 2-3 times per week. You will find many workout options on youtube that you can carry out with easy-to-find equipment. Just make sure, you build up the difficulty level and duration over time. Keep your end goal in mind so you don't give up.
Taking Enough Time While Prepping For The Trek
You will reap maximum benefit from your training if you take enough time to prepare for the Everest base camp trek i.e 8-12 weeks. Give your body enough time to adapt and adjust, as you will be going slow and steady up the mountain. So, don't rush with your practice, and take your time.
Watch Your Nutrition
Stepping up your training requires you to step up your nutrition as well. Your body will need more protein and nutrients to build muscles and stay healthy. So be sure to watch your nutrition. Making improvements to your diet will prove to be immensely beneficial on the trail.
Stretches
Establish the habit of adding 5-10 minutes of stretches to the end of the day on the trail. You will get better sleep and your body will be fully prepared to take on the next day. Dynamic stretches will help you to warm up in the morning and get ready for the trail whereas Static stretches will help you loosen your muscles so you can heal while resting at night. So make sure you add these stretches to your day on the trail.
Unwind Before The Trek
You shouldn't push yourself too hard before the trek. Be sure to do your stretches daily but refrain from training too hard. You need to be fresh and ready once you arrive at the trail. You don't want to push yourself too hard right before your trek. Rest is equally important as training.
Navigating The EBC Trek Trail
There are four common and not-so-common trails that you can take to the Everest base camp trek. These trails are discussed below in detail.
The Classic Everest Base Camp Trek
The classic Everest base camp trek involves trekking along the traditional Everest base camp trekking route. The Everest base camp trek distance is 64 km from the town of Lukla to the Everest base camp.
It is a three-week-long journey and the best one, this region has to offer. The classic Everest base camp trail entails the right blend of adventure, wildlife, nature, and culture. This trail encompasses the perimeters of the UNESCO enlisted World Heritage site; The Sagarmatha National Park. The remote wilderness, astounding mountain views, unique culture, and diverse topography in the Everest region make it truly stand out. On the way to the world's largest peak, you will also witness numerous majestic mountains including Lhotse, Makalu, Cho Oyu, and Ama Dablam.
The trip starts by visiting the 4 world heritage sites in Kathmandu. You will walk past numerous villages including; Puiyan, Khari Khola, Nuntala, Junbesi, Sete, and Bhandar. Upon passing the village of Puiyan, you will eventually connect with the classic Everest base camp trek at Phakding. Then you will continue the walk to the heart of the Khumbu region, Namche Bazaar.
Furthermore, you will pass the renowned Imja Khola and climb toward the village of Tengboche. Here you will have an opportunity to explore the oldest monastery in the region. Then you will walk past numerous high settlements; including Dingboche and Lobuche. The climb is definitely rough and lengthy However, you will get a chance to enjoy the views of the majestic Mount Everest and its surrounding peaks.
Located at 5,545 meters, the summit of Kalapathhar is clearly exceptional. This viewpoint serves the glorious sunrise views along with the stupendous Himalayan ranges. The classic Everest base camp trek ends when we descend back to Namche bazaar and catch a flight from Lukla to Kathmandu.
Everest Base Camp Trek and Gokyo Lakes
The Everest base camp and Gokyo Lakes trek are a favored alternative to the classic Everest base camp trek route. This route involves trekking the usual route to the Everest base camp and taking a detour to the Gokyo Lakes while returning.
There are several pros to doing the Everest base camp and along with the Gokyo Lake trek. Firstly, you will get a chance to hike through the fresh territory. There is a lot of cultural and natural richness in the Khumbu region. Secondly, the alternative route gives you a chance to cross cho pass, Summit Gokyo Peak (5357m), Witness the magnificent Ngozumpa glacier and visit the magnificent Gokyo Lakes.
Finally, this comparatively longer trail is quieter than the main trail; which allows us to experience the remote part of the Himalayas.
EBC With Three Passes
The Everest base camp and three passes trek witness you doing a big loop through the Himalayas, stopping to explore the Everest base camp en route. These three mountain passes that you cross makes it the toughest among the EBC trek routes. The three mountain passes that you elevate and descend on the trekking route are; Kongma La (5,535m / 18,154ft), Cho La (5,420 m / 17,782 ft), Renjo La (5,360 m / 17,560 ft).
Through these three passes; you enjoy the majestic views of Mt. Everest and Mt.Lhotse, Ngozumpa and Khumbu glaciers, and Gokyo Lakes. This is an enthralling adventure to some of the wildest and quietest corners of the Sagarmatha National Park. It offers captivating views of all the EBC trek routes.
EBC Trek And Helicopter Return
The final option is trekking to the Everest base camp along the classic EBC route and then taking an exciting helicopter ride back to Lukla. The main pros of this trek are that; you don't need a lot of days to enjoy the adventure of a lifetime. You also diminish the possibility of fatigue by shortening your time on the trail and still reaching a renowned landmark. You witness the majestic Mount Everest, other renowned peaks, famous glaciers, and enthralling views from the mesmerizing vantage point up in the sky.
Accommodation in Everest Base Camp Trek
Lukla
Lukla is the entrance for trekking to the Everest region. Due to unfavorable weather conditions, most flights from Kathmandu to Lukla will arrive early in the morning. Hence, only a few people stay their first night in Lukla. The majority of trekkers prefer their first stop to be Phakding or Namche.
This doesn't mean that there are no lodges available in Lukla. There are plenty of Hotels available in Lukla and the accommodation is also higher. You will find good quality hotels even if they are a little more expensive than the teahouses.
However, the facilities are far better than the basic teahouses. Many of these hotels have a balcony room from where you will witness the breathtaking views of the world's highest peaks. Besides that, you will also get a welcome hot shower. You can also hire a porter as there are a lot of porters praising for business.
Namche Bazaar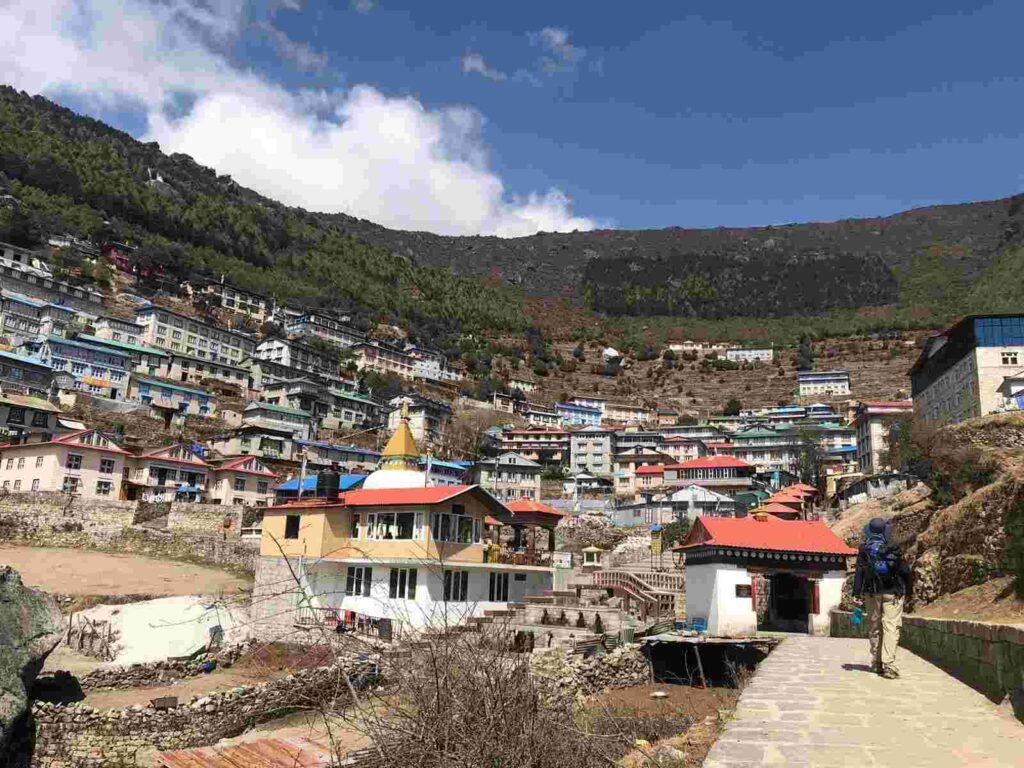 During the trek to Everest base camp, Namche Bazaar is a popular stop where you will find numerous high-quality teahouses. However, Namche is the last stop for getting a wide variety of teahouses with multiple price ranges. In addition, Namche is renowned for its cafes, and bakeries where you can enjoy your cup of tea and relax.
Accommodations above Namche in places like; Dingboche, Lobuche, and Gorakshep the accommodation are quite basic. You will find the 5-star hotel, Everest View Hotel at the highest altitude in the world. In addition, you will find numerous other sophisticated to simple rest houses, lodges, and hotels dedicated to your comfortable stay.
Tyangboche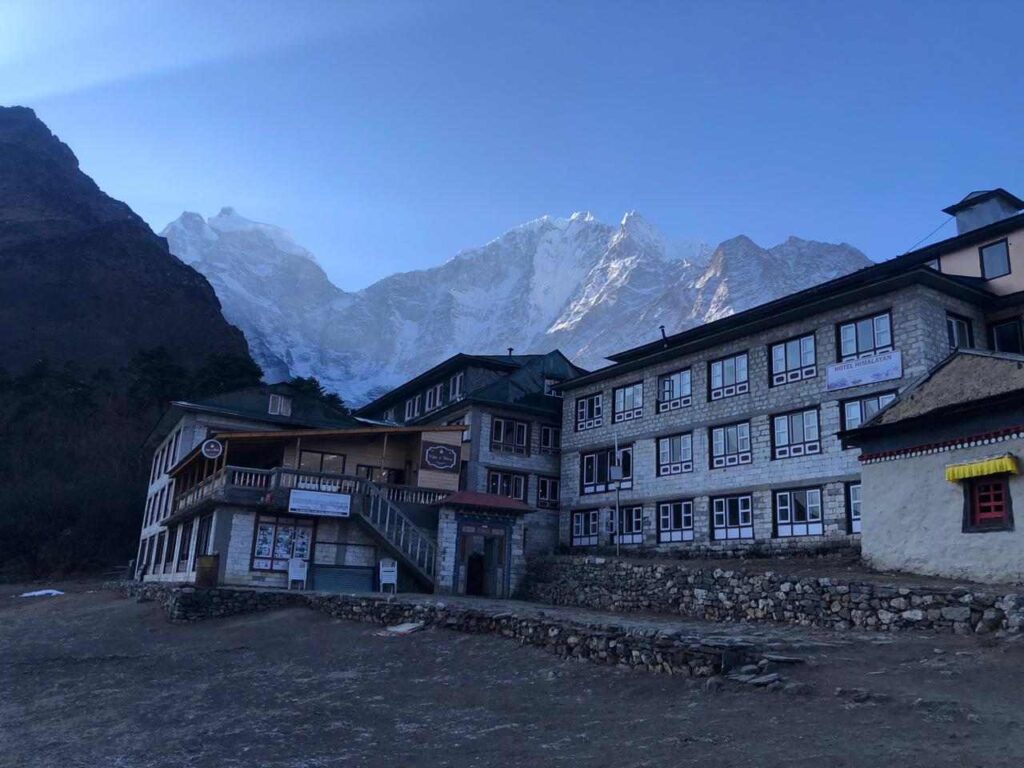 Tyanboche monastery is the largest monastery in the Khumbu region, hence the world-famous monastery. From the top of this monastery, you will witness splendid views of the mountains. Most of the trekkers want to attend the morning prayers at the monastery hence, most of them stay there overnight.
The Tyangboche monastery is crowded during the peak seasons. The food and accommodation facilities in Tyangboche are basic. However, there are a lot of cafes that offer good drinks and food to the trekkers. Tyangboche Monastery is the best place to visit while trekking in the Everest Base Camp.
Dingboche
Digbche will be another major stop for climbers and trekkers. Most of the trekkers spend at least a day here at Dingboche for acclimatization purposes. This place has only a few lodges available along with basic accommodation facilities. Most of these lodges are family homes that are later turned into teahouses. You might also have to share the room with family members.
Lobuche
On the trail to Everest base camp, you will find several basic teahouses in Lobuche. These teahouses are generally comfortable. However, do not expect more than a basic bed, pillow, and a woolen blanket. During the peak seasons, even these teahouses are full. You might have to share the dormitory. After a long and physically tiring day, sharing space will not be a big problem.
Gorak Shep
Gorakshep will be the last stop at our destination to the Everest base camp. This place only has about 4 teahouses that too with basic accommodation facilities. Due to the limited housing facilities, this place is mostly crowded.
Cultural Experiences During EBC Trek in Nepal
The Everest base camp trek lies in the Khumbu region, this place is renowned for being the home of the Sherpas. Most of this area is inhabited by the ethnic Sherpas and other ethnic groups including Rai and Limbu. The trail that you will be walking upon is filled with Sherpa inhabitants. You will get a chance to get acquainted with the native Sherpa culture. Sherpas are renowned for their heartwarming hospitality and enriching ethnic culture and customs. Sherpas are welcoming, charming, and friendly by nature and will cheer you up on your trekking journey.
You will also get a chance to get accustomed to their lifestyle in the lap of the Himalayas and enjoy the delightful delicacies. Altogether, this trek allows you to enjoy and appreciate the prominent ethnic groups of Nepal.
EBC Trek Difficulty: Preventing Altitude Sickness (AMS)
Trekking to the base of the highest mountain in the world can be soulful, inspiring, and extremely adventurous. However, it comes along with its own challenges and risks. Some of the potential risks that you can encounter on the trek to the Everest base camp are discussed below in detail. This will help you in navigating through the potential risks and find solutions.
Altitude Sickness On Everest Base Camp Trek
During the Everest Base Camp trek, altitude sickness, also known as Acute Mountain Sickness (AMS), is a common concern among most trekkers. Symptoms such as headaches, breathing difficulties, and mild nausea often arise due to the high altitude. Fortunately, local guides and hotels on the route are both well-equipped and experienced in managing AMS. Oxygen supplementation and helicopter evacuation services are readily accessible, ensuring that appropriate measures can be taken if needed.
Acute mountain sickness (AMS)
Another potential risk in the Himalayas is Acute mountain sickness. The symptoms of this illness include; headache, fatigue, nausea, difficulty sleeping at high altitudes, and dizziness Acute mountain sickness can take two more extreme forms. (HAPE)
High-Altitude Pulmonary Edema (HAPE)
High-Altitude Pulmonary Edema (HAPE) occurs in response to the shortage of oxygen at higher altitudes. This condition results in the weakening of the lung vessels and eventually breaking as a result of that pressure. This causes the fluid to build up. Symptoms of HAPE include chronic fatigue, breathlessness even at rest, and coughing up blood.
High-Altitude Cerebral Edema (HACE)
This HAPE can result in High-Altitude Cerebral Edema (HACE) where the brain collects extra fluid, swells, and even stops working properly. This results in an increase of blood flow as a normal response to lower oxygen levels at higher altitudes, as the body needs to maintain a constant oxygen supply to the brain. However, if the blood vessels get damaged, fluids will leak out resulting in HACE. Results include; confusion, altered mental state, fever, and loss of consciousness. HAPE and HACE are treatable if they are diagnosed quickly but if not, they can be deadly as well.
The science behind who gets sick and who does is not exact. Even the fittest people can struggle with these conditions. It has nothing to do with fitness. However, if you ascend slowly, stay hydrated, and take Diamox as prophylaxis you can avoid the circumstances. Ascending slowly even when you feel strong is the key here.
Also, check out:
Fitness Level Required For Everest Base Camp Trek
Other Issues That Might Come On The Trek
Other issues that you might encounter during the trek can be dangerous as well. For example; Overexertion may lead to injuries, dehydration, and falling down on the trail. However, these issues are nothing that an experienced guide cannot deal with.
An extremely rare yet potential risk that you might encounter on the trail is the risk of a glacial lake busting a GLOF(Glacial Lake Outburst Flood). This is a type of outburst flood that occurs when water dammed by a glacier or a moraine is released. These catastrophic events occur in the Himalayas every few years, which leads to mayhem and disaster for anyone unlucky to catch the path. However, these events are luckily very rare. But, in every Himalayan valley; you will witness the warning signs of what you must do in the event of a GLOF. Get to the high ground to avoid the tsunami of glacial debris.
Finally, dehydration is probably the biggest danger on the trail. Especially on the high-altitude trek in the Himalayas. People easily underestimate the amount of water they need while engaging in vigorous activities. At higher altitudes; one tends to lose more water than at lower altitudes because of breathing dry air. The temperature is low and people don't feel like drinking water and end up dehydrating themselves. Drinking less water often is the key here.
Then, is the Everest base camp dangerous? It is generally a safe trek, in a controlled environment. However, risks prevail. It is better to beware and plan for all occurrences.
If you're planning an Everest Base Camp trek and wondering about the difficulty level of this iconic adventure, be sure to check out our guide for a detailed breakdown of the EBC trek difficulty.
Best Time to Visit Everest Base Camp
A discussion of the best time for the EBC trek, taking into account weather conditions and peak season. The best time to visit Everest Base Camp depends on the activities you hope to do while there. If you are willing to trek to the Everest base camp then Spring and Autumn are ideal times for you.
However, if you are not a big fan of trekking but still want to visit the Everest base camp, then you can reach the Everest base camp via helicopter ride. The most favorable time for taking a helicopter ride has to be during spring and autumn again. The weather conditions during this time are stable and pleasant.
We will discuss the best time of the year to embark on the trek, taking into Everest Base camp weather conditions and peak season in detail. Be sure to stick to the end.
Spring And Autumn
Spring and Autumn are considered the ideal time for trekking in Nepal. Spring(March-May) and Autumn(October-December) offer pleasant and supportive temperatures for trekking. Clear blue skies, fewer chances of precipitation and snowfall. However, this is when the trails are busiest and it is difficult to find accommodations as well. But, we can make a trade-off as the weather conditions are the most pleasant.
Winter
Winter is considered the off-season for trekking to the Everest region. It does not necessarily have to be a wrong time for trekking to EBC as you can easily take up this trek with prior management and preparation. You might have to face freezing weather conditions and slippery trails. However, the perks of traveling in the winter are the clear blue skies, astounding mountain views, and the trails being relatively quieter. So you must get your priorities straight to pick a good time according to your preference.
Summer & Monsoon
Summer is followed by Monsoons in Nepal and the Monsoons arrive with their own sets of challenges. Slippery trails, bugs&leeches, unforeseen weather conditions, heavy precipitations, and landslides, so it is not the most favorable time for trekking to the Everest region. However, it doesn't rain all day every day during monsoons and the higher you elevate the lesser the chance of rain. So if you are well prepared and willing to keep up with a little rain then you can trek even during Monsoons.
These weather conditions have the potential to affect the trails as well as flights from Kathmandu to Lukla. Flying is the most convenient means to travel to Lukla but the flights are canceled more often due to poor weather conditions and poor visibility.
Additional Activities And Excursions
Island Peak Climbing
Island peak climbing is something you can try while you are here at the Everest base camp trek. You will have a marvelous time exploring the beauty of the Himalayas in Nepal. However, this excursion is specially designed for energetic and physically strong trekkers. This trek requires some experience in the mountain expedition field. This island is about 6,189m and falls under one of the highest peaks in the Everest region of Nepal.
Island peak climbing along with the Everest Base Camp trek is a marvelous experience of the majestic Himalayas in Nepal. However, climbers need to have experience in the mountain expedition field. This island is about 6,189m and is one of the highest peaks in the Everest region in Nepal along with an impressive and highly glaciated west face that rises from the Lhotse Glacier.
It is one of the best and most amazing trekking peaks that can be unraveled in a short period of time. Also, it is not a very difficult climb hence attracting hundreds and thousands of climbers and travelers every single year. This trip leads you to the Khumbu region also regarded as the heartland of Sherpa culture and diversity.
Experience The Spirituality
This is a magnificent opportunity to experience the spiritual aspect of the majestic Himalayas. Witnessing the larger-than-life mountains on the Himalayan trail is bound to be a life-changing experience. You will experience a sense of accomplishment and peace while passing through the path festooned with fluttering the prayer flags of Buddhist monks or religion. You will also get a chance to explore the renowned Tengboche monastery; which is also the source of spirituality for the people in the Everest region.
Taste of A Sherpa Cuisine
Tasting the renowned Sherpa cuisine is another activity that you cannot afford to miss while you are here in the Everest region. The Sherpa food culture is widely similar to the Tibetan culture. It is believed that the Sherpas migrated from the Tibetan region. Potatoes, Barley, Wheat, Corn, Meat, Beans, and Green Vegetables are the major stable foods of the people residing in this region.
Sherpa cuisine is enjoyed in the lower region of the country as well. Dumplings and Momos are also famous in the Everest region.
Prayer At Tengboche Monastery
Upon ascending about 1300 feet in the Everest region, you reach the magnificent hilltop. You will witness the astounding Himalayas in the Everest region near the renowned Tengboche Monastery. It is the largest monastery in the Everest region.
This is a sacred space for spiritual seekers. This is going to be a unique opportunity altogether as the monastery lies at such a high altitude. This monastery is admired for conducting religious activities. You can also take a moment to interact with people to understand the cultural and religious significance of the Tengboche monastery.
Exploring Namche Bazaar
Exploring around Namche Bazaar is another exciting activity you can do in the Everest region. The Namche bazaar is the tourist capital of the Everest region. This place holds enormous cultural and religious significance. It is also the economic hub in the Everest region. You will witness a colorful panoply of lodges, houses, restaurants, ATMs, Bakeries, and Shops.
While you are here at the Namche Bazaar; you can take brief strolls around the town. You can go shopping or explore the town; buy trekking gear and shop for other items as well. The best place for shopping is in the Khumbu area of Namche Bazaar.
Lodge-to-lodge trekking experience
Lodge-to-Lodge trekking is another interesting activity to perform while on the trek. In this Lodge-To-Lodge trek, you will see various people and several aspects of the Khumbu region. The trekking to the teahouses helps offer a great combination of numerous things. Relaxing in the social atmosphere during the entire trek. You will be served a warm breakfast in a cozy room; chanting and sharing your experience will help others on the trek at the same time. This will also help take away negativity and exhaustion from daily walks on the trail.
The Trail
This is another exciting activity that you can do on the trek to Everest base camp. You will encounter more excitement upon reaching the designated destination by walking on the historical and centuries-old path engraved with exciting adventures. This trekking trail is referred to as the most delicate trail in the entire world. Crossing beautiful hamlets, delightful monasteries, and landscapes with prayer flags that are getting festooned in the trail. After witnessing the snow-covered mountains in the backdrop you are bound to feel a sense of fulfillment and happiness.
Tranquil Himalayan Lakes
This is a short extension of the Everest base camp trek. This trek leads the trekkers to the magnificent Gokyo region. In this region, you can witness numerous glaciers and delightful altitude lakes. This is bound to take you to another level of magnificence whilst trekking in the Khumbu region. This region is covered by multiple Himalayas. Some of the most significant areas are Lhotse, Mount Everest, and Ama Dablam and you will also witness the magnificent altitude lakes. You are bound to take away a memory of a lifetime.
Getting To Everest Base Camp
Once you reach the Everest base camp, you will find numerous activities to engage in. When you arrive at the Everest base camp, you will find a lot of things to engage in around here. It is wonderful to witness enormous glowing and sparkling mountains at the same time. When you arrive at the Everest base camp, you will witness the lit colorful tents that scream stories of passion and adventure of the trekkers.
When you reach the Everest base camp you will get many purposes to do around there. You will be a wonder to see the huge glowing and sparkling mountain at the same time. The atmosphere at the altitude of Everest base camp is lit with colorful tents with stories of passion and adventure of the trekkers who eagerly want to be at the top of the world. The most amazing time that you are going to spend in the base camp of Everest is an awe-inspiring moment in your entire trip.
Exploring Around The Everest Region
Everest also known as the Khumbu region named by the locals in this region. This region never fails to give glory. The astounding mountains, marvelous landscapes, colorful villages and pristine glaciers, and a number of peaks. Basically, this is a wholesome experience as you get to witness so many wonders in a single place. You can simply stop by the Everest region to witness these beautiful scenarios.
9 Incredible Reasons To Do The Mount Everest Base Camp Trek
Wrapping Up
Trekking to the base of the world's tallest mountain is an enthralling adventure. It provides you with a unique opportunity to view the awe-inspiring panorama as you progress further. The incredible trekking trail blending with the mesmerizing culture is bound to leave you speechless.
As we discussed earlier if you are well-equipped and prepared for any forthcoming challenges then you can easily complete this challenging yet rewarding trek. If you are a trekking enthusiast looking for a little adventure then the Everest base camp trek is the best-suited alternative for you.
This journey can be incredibly enthralling, However, you should always be mindful of the risks and challenges that you might encounter on the trail. It is crucial to select a well-experienced travel agency that can fulfill your needs and provide safety assurance. For travel safety and an enriching trekking experience, connect with Bold Adventures.
Top 5 FAQs on Everest Base Camp Trek Guide
What Are The Permits Required For The Everest Base Camp Trek?
You will require two main permits for the Everest base camp trek and they are; the Khumbu Rural Municipality permit and the Sagarmatha National Park permit.
Where Do I Get The Rural Municipality Permit?
If you are taking a flight to Lukla then you need to take this permit after reaching Lukla. Trekkers arriving from Jiri or Salleri can take this permit in Monjo at the Sagarmatha National Park.
Where Do I Get The Sagarmatha National Park Permit?
You can acquire the Sagarmatha National Park permit from the Nepal tourism board office, Pradarshani Marg, Kathmandu. You can also acquire this permit at the Sagarmatha national park gate. During the peak trekking season, you have to stand in a queue for a long period of time. Hence we advise you to get this permit in Kathmandu.
What Is The Fitness Level Requirement For The Everest Base Camp Trek?
You should be able to walk for about 5-6 hours daily in order to complete the Everest base camp trek comfortably. A moderate fitness level is perfect for the Everest base camp trek.
What kind of accommodation options are available during the trek?
During the Everest Base Camp trek, tea houses and lodges are the primary options for accommodation. These are basic yet comfortable and affordable, with amenities such as beds, blankets, and food available.