Located in the lap of the Himalayas, Nepal is a house to numerous treasures including the UNESCO enlisted world heritage sites. There are a total of 10 UNESCO World Heritage sites in Nepal. Amongst these world heritage sites, 8 of them are cultural sites and the remaining two are natural attractions. These sites date back a couple of centuries hold immense cultural and historical significance, and offer diverse landscapes and wildlife.
Significance of World Heritage Sites of Nepal
Nepal, being the home to diverse cultural and natural heritage, has earned a significant place on the world tourism map. The UNESCO World Heritage sites of Nepal are a source of pride for the Nepali people and attract tourists from all around the globe. In addition to showcasing the rich history, culture, and natural beauty of the country, they contribute to the preservation and promotion of Nepali culture and traditions.
The world heritage sites of Nepal not only have a distinct cultural identity but also provide the younger generation an opportunity to learn about their history and heritage. These sites have extensive hands in promoting sustainable tourism practices.
Top 10 World Heritage Sites of Nepal
Here we present to you the elaborative list of world heritage sites of Nepal. The 10 UNESCO world heritage sites of Nepal include Lumbini, Boudhanath, Pashupatinath, Chnagunarayan, Chitwan National Park, Sagarmatha National Park, Swayambhunath, Patan Durbar Square, Bhaktapur Durbar Square, Kathmandu Durbar Square.  Be sure to stick to the end to gain insights into the natural, cultural, and religious aspects.
1. Lumbini – The Birthplace Of Lord Buddha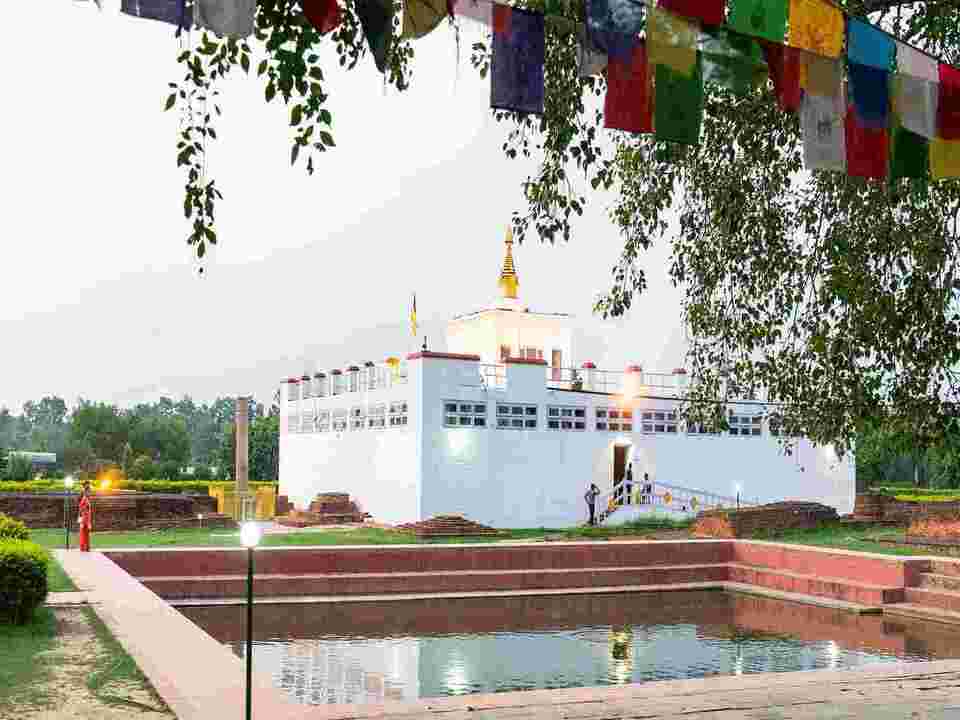 Located around 300 km southwest of Kathmandu Valley, Lumbini is a religious pilgrimage site that carries a lot of history behind it. It is designated as a UNESCO World Heritage Site (1997). Lumbini is renowned for being the birthplace of Gautama Buddha also regarded as Shakyamuni. Siddhartha Gautam was the Shakya prince from around the 3rd-4th century BCE who left the Kingdom and eventually attained enlightenment and became Buddha. 
His teachings, Buddhism spread all around the globe throughout the years. Lumbini carries immense spiritual and religious significance for the Buddhists. The crucial landmarks that you can't afford to miss while you are here at Lumbini include; The Maya Devi temple, World Peace Pagoda, Thai Monastery, Nepal Buddha Temple, Tilaurakot Palace, Burmese(Myanmar) Temple, and China Temple.
If you're looking for more in-depth information, check out our blog on A Guide to Lumbini Spiritual Sites & Places to Visit.
2. Pashupatinath Temple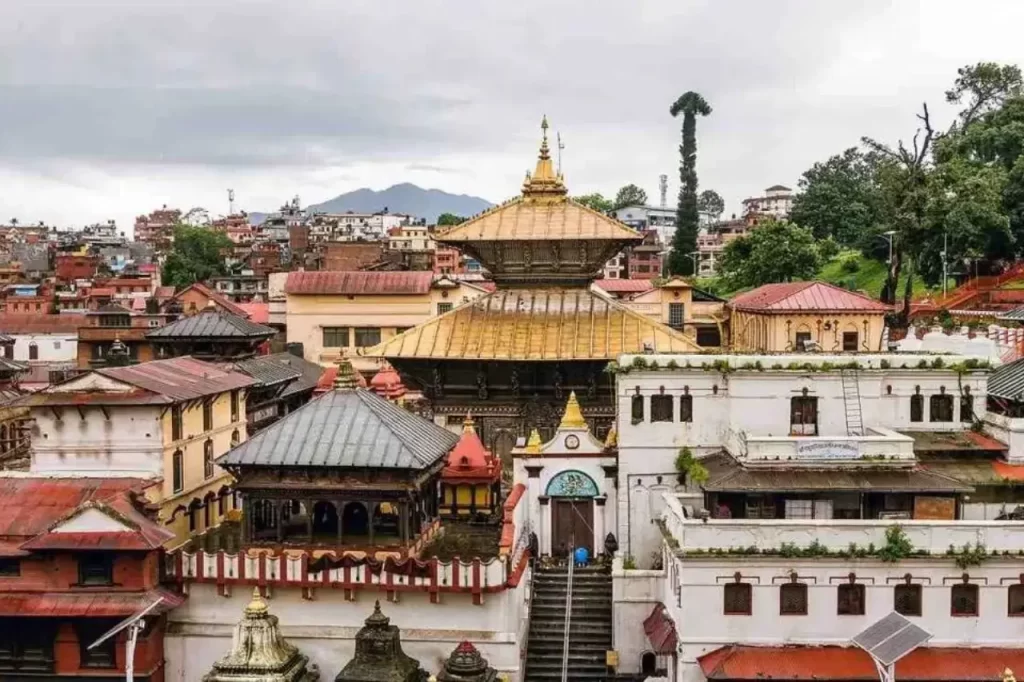 Pashupatinath Temple is one of the most significant Hindu temples dedicated to Lord Shiva. The existence of the Pashupatinath temple dates back to 400 AD. The Pashupatinath temple holds immense significance in the Hindu religion. This holy temple was enlisted in the UNESCO World Heritage Site of Nepal in 1979. The Pashupatinath temple is renowned for its breathtaking pagoda-style architecture. The two-story roofs of the Pashupatinath temple are gold embellished and the main 4 doors are silver. 
Maha Shivaratri is one of the major festivals celebrated here along with over 800,000 devotees. This day holds a high spiritual and religious significance in the Hindu culture. If you are here around this time then you cannot afford to miss the celebrations. It is truly mesmerizing to get acquainted with the Hindu culture. But even if you miss it, you can still enjoy the renowned Ganga Aarti at Pashupatinath. The Ganga Aarti is an offering that takes place every evening at the Pashupatinath temple so make sure you don't miss it.
3. Boudhanath Stupa
Boudhanath stupa is one of the largest spherical stupas in the entire world. Boudhanath stupa was enlisted in the World Heritage site of Nepal in 1979. It is one of the most popular world heritage sites of Nepal in Kathmandu. Boudhhanath carries immense historical, religious, and spiritual significance. It was built around the 5th century. The vibrance and tranquility of this space attract hundreds of tourists to this place. It is one of the most popular tourist destinations attracting local as well as international tourists. If you are here in Kathmandu, we highly recommend you visit the Boudhanath stupa. You are bound to feel energized and vibrant once you leave this space. 
Although this space is dedicated to Buddhist followers, people from all religions and cultures come to pray here. Boudhanath stupa is considered a wish-fulfilling stupa. It is believed that whatever you wish for in the stupa comes true.
4. Swayambhunath Stupa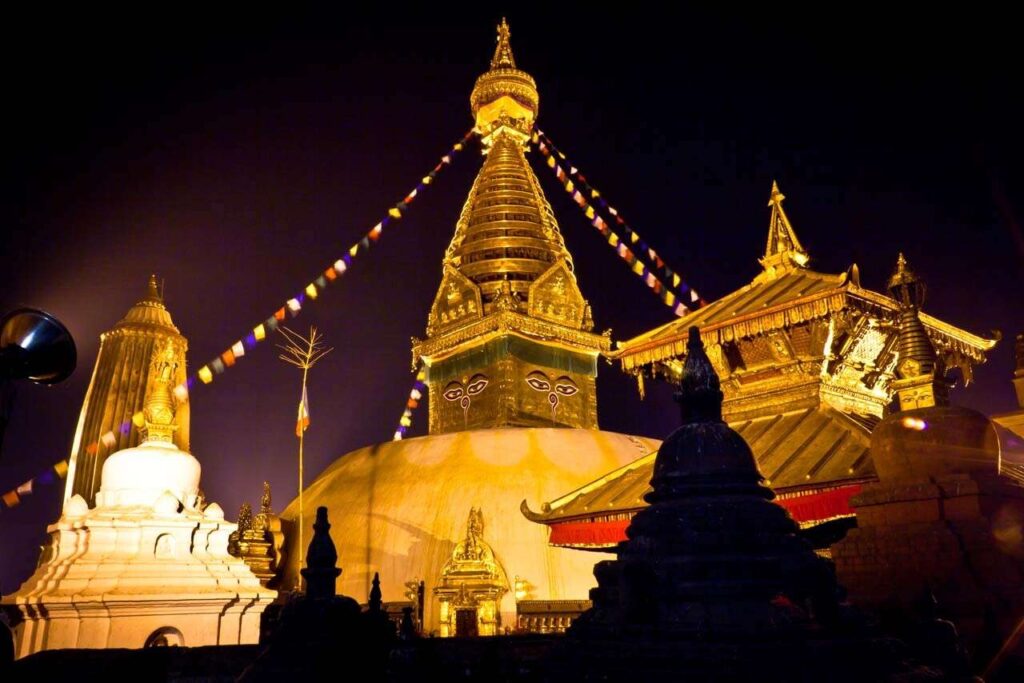 Swayambhunath stupa is another major attraction available in the city. It is regarded as the oldest stupa in Kathmandu. This renowned structure has been enlisted in the UNESCO World Heritage Site of Nepal since 1979. It carries immense religious spiritual and historic significance. 
Swayambhunath also referred to as the monkey temple is situated at the top of a hill that lies west of Kathmandu. It is one of the oldest stupas in Kathmandu. Swayambhunath is one of much mesmerizing architecture available in the city. This site also offers astounding panoramic views of the capital city. It is a must-visit destination for anyone traveling to Kathmandu.
A huge number of Buddhists, as well as Hindus, are attracted to this site. You can witness enormous crowds, especially during the birth anniversary of lord Gautam Buddha.
5. Changu Narayan Temple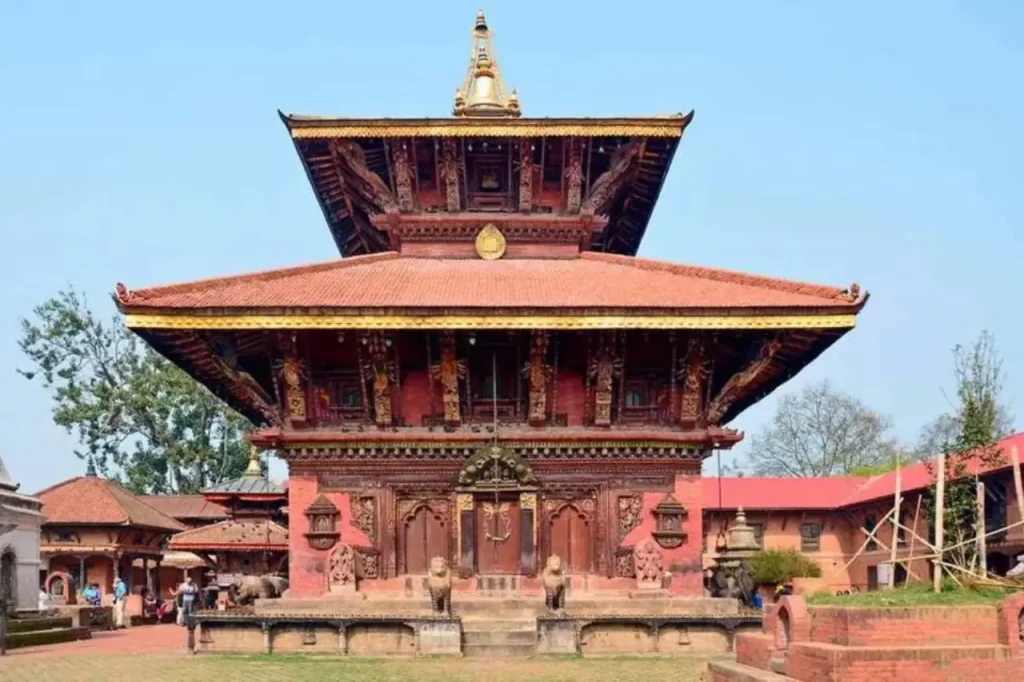 The UNESCO enlisted world heritage site of Nepal, Changu Narayan lies at the top of a small hill in the Bhaktapur district. It is one of the renowned Vishnu-Narayan temples, regularly visited by a large number of devotees, especially during auspicious occasions like Harishayani Ekadashi and Haribodhini Ekadashi.
Changu Narayan is a two-story pagoda-style temple that is dedicated to Lord Vishnu and is surrounded by ancient statues and carvings. Having survived two of the deadliest earthquakes in Nepal, Changu Narayan is considered to be the oldest Hindu temple in Kathmandu city.
6. Patan Durbar Square
Located at the heart of the Lalitpur district, Patan Durbar Square preserves a huge collection of architecture and fine arts inscribed on the metals and woods of our ancestors. Patan City is renowned for festivals, cultures, statues, monuments, shrines, and statues. You can witness these craftsmen and their unique set of skills even today. The boundary surrounding Patan Durbar Square is marked by the ancient Buddhist stupas built in 250BC by King Ashoka during his visit to the valley. 
7. Bhaktapur Durbar Square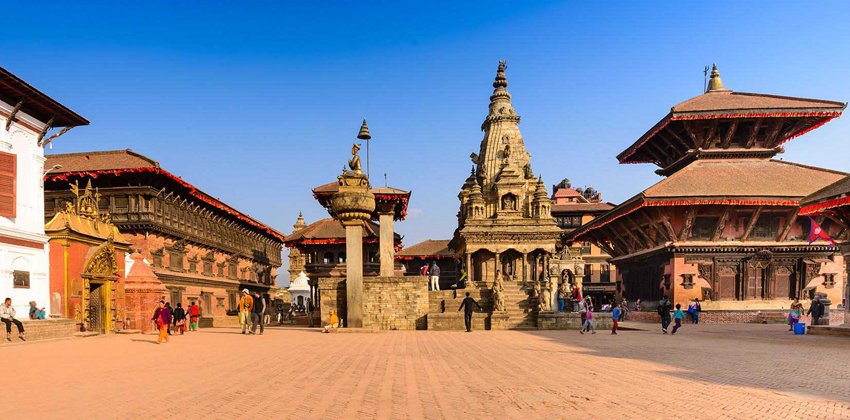 Bhaktapur Durbar Square is another gem inside the valley. It is undoubtedly one of the best places to sneak around. Some of the major attractions of the Bhaktapur Durbar Square include; 55 Window Palace (Pachpannajhyale Durbar), Golden Gate, Lion's Gate, Mini Pashupatinath Temple, Vatsala Temple, Nyatapola Temple, and Bhairavanath Temple. The Bhaktapur Durbar Square is rich in ancient architecture, arts, handicrafts, culture, crafts, and ancient history. Bhaktapur Durbar square.
With its unique architecture, arts, handicrafts, and immense historical significance, Kathmandu Durbar Square is one of the most visited world heritage sites.
8. Kathmandu Durbar Square
Kathmandu Durbar Square is one of the UNESCO-enlisted world heritage sites of Nepal. Also known as Hanuman Dhoka or Basantapur Durbar Square, Kathmandu Durbar Square lies in the heart of the city. The Kathmandu Durbar Square is an outdoor gallery of ancient structures, pagodas, holy places, and so on. While you are here at the Kathmandu Durbar Square, do not miss the Maru tole, Kumari Ghar, Taleju Temple, Seto Bahirab, and Hanuman Dhoka Palace Museum.  
If you are lucky enough you will get a chance to witness ceremonies, festivals, and religious rituals conducted in Kathmandu Durbar Square. You cannot afford to miss this beautiful masterpiece while you are here in Kathmandu.
You Might Be Interested In:
9. Sagarmatha National Park
Sagarmatha National Park is one of the most famous natural reserves in the Himalayas of Nepal. Just after 3 years of establishment, the Sagarmatha National Park was designated as a world heritage site. This place houses several glacial valleys, rugged terrains, and 90 majestic peaks including the world's highest peak; Mount Everest.
It is a wildlife reserve renowned for its location as it is surrounded by the world's highest peak, Mt. Everest, lying in the Himalayas of Eastern Nepal. With the great scenarios and the adventurous trails available for trekking and hiking, Sagarmatha National Park attracts many tourists yearly. Although it was established in the year 1976, tourists have been visiting this place since the 1960s.
10. Chitwan National Park
Chitwan National Park is a place, you cannot afford to miss especially if you are a wildlife enthusiast. This place is renowned for its Birdwatching, Wildlife Safari, and Tiger Tracking. Chitwan National Park attracts numerous tourists each year, who tend to fall in love with the eternal natural beauty. This place was established in 1973 and has a lot more to offer.
Chitwan National Park houses Leopard, One-horned rhino, Royal Bengal Tiger, Sloth Bear, and other rare reptiles and bird species. Apart from Elephant Safari, Jeep Safari, and other adventures, you can enjoy cultural programs.
Conclusion
We hope you gained some insights into the UNESCO-enlisted world heritage sites of Nepal. However, you must explore these sites in order to experience the beauty and significance of that space. If you are interested in exploring the world heritage sites in Nepal then you can connect with Bold Adventures on Nepal World Heritage Tour as we provide you with the best tour experience possible in Nepal.