Lumbini is a sacred and holy place in the Terai region of Nepal. It is one of the most renowned tourist destinations, especially for Buddhist devotees. Apart from the religious significance, the breathtaking natural beauty and the delightful Buddhist shrines attract tourists from all around the globe.
Did you know that Lumbini is a UNESCO-enlisted world heritage site? The fact that it is a world heritage site and the birthplace of lord Gautam Buddha, attracts numerous tourists to this site. This spiritual site has a lot to offer, hence it attracts visitors from different religions.
One of the primal attractions is the Mayadevi temple. This is renowned for being the birthplace of lord Gautam Buddha. This is where Mayadevi gave birth to lord Gautam Buddha.
If you're looking for information on the world heritage sites of Nepal you should definitely check out our Top 10 Must-Visit UNESCO World Heritage Sites of Nepal.
Places To Visit In Lumbini
The UNESCO-enlisted world heritage site, Lumbini holds immense cultural and religious significance. However, it is not just about the religious and cultural significance, you will find numerous places to explore here. We have curated a descriptive list of places to visit and things to do in Lumbini. You can follow through with the list to determine the significance of each spot. 
Lumbini Museum
Maya Devi Temple And Sacred Garden
Maya Devi Pond And The Bodhi Tree
Ashoka Pillar
Explore World Peace Pagoda Lumbini
Boating In Central Canal
The Eternal Peace Flame
Lumbini Crane Sanctuary
Cycling Tour Around
Signup For Meditation Class
Lumbini Museum
Lumbini Museum is a tempting spot for exploration. This is a spectacular spot to study ancient Buddhist history. It is an appealing spot to explore while you are here in Lumbini. It is an incredible space to explore and learn about Buddhist history. This museum showcases around 12000 artifacts that include; terai cottas, religious manuscripts, metal sculptures, and coin collections from Khusana and Maura dynasties.
You can also explore the Lumbini International Research Institute(LIRI), opposite the Lumbini Museum. This place provides research facilities for studying Buddhism. 
Maya Devi Temple And Sacred Garden
The sacred garden lies at the heart of Lumbini. It is one of the most significant spots in the area as lord Gautam Buddha was born here. This is the spot where Queen Mayadevi gave birth to Prince Siddhartha 623BC, under a Sal tree on a full moon night. 
It is believed that the exact spot where Budhha was born is visible at the Marker Stone. Lumbini Mayadevi temple was built to preserve this sacred spot. Under the roof of this temple lies the archeological remains of previous worship places constructed between the 6th century and the 5th century.
Maya Devi Pond And The Bodhi Tree
Situated right in front of the renowned Mayadevi temple, the Mayadevi pond is a square-shaped structure that has steps all around that ascends to the water level. Also renowned as Puskarini. It is considered that this is where Maya Devi used to Bathe and lord Buddha's first bathing was done in this pond. During special occasions, the steps surrounding this pond are illuminated with oil lamps during dusk to worship this sacred space.
The Bodhi tree is located opposite the Mayadevi pond in Lumbini. It is said that Siddhartha Gautama achieved spiritual enlightenment in India under the Bodhi tree. This state of enlightenment is referred to as Bodhi. "Bodhi tree" is also known as Bo, this is the term used for a very old fig tree. The term Bodhi tree is assigned to numerous important trees in Buddhism today. The Bodhi tree is often confused with Sal or Ashokan tree.
Ashoka Pillar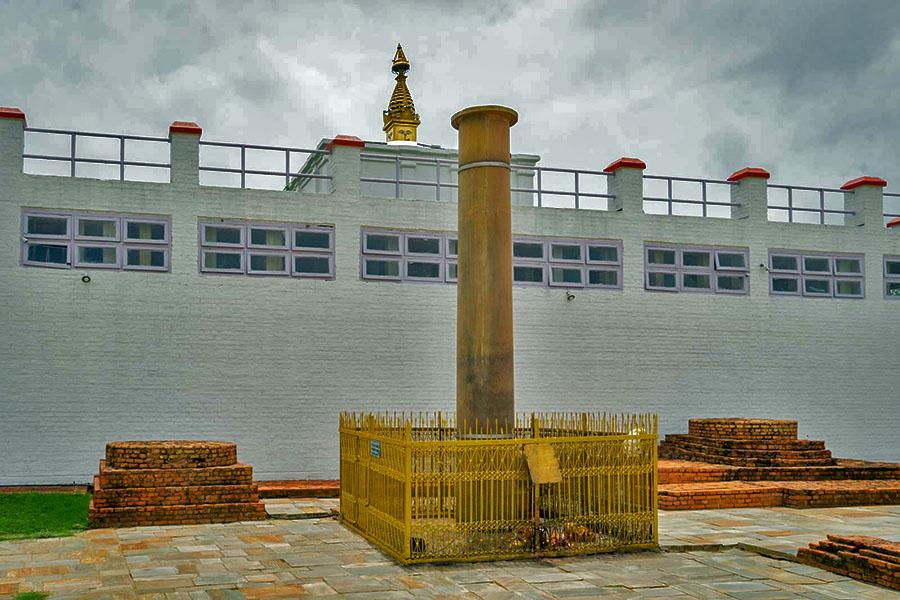 The Ashoka pillar located in Lumbini is a 3rd-century stone pillar that was built under the reign of Emperor Ashoka. The Ashoka pillar was built as a mark of respect by Emperor Ashoka after he traveled to the birth palace of Gautam Buddha and accepted Buddhism. This fact makes the Ashoka pillar a vital attraction in this country. It also holds the oldest inscription as compared to the other Ashoka Pillars, hence making it the first-ever such structure built. It is located inside the appealing Maya Devi temple complex. It is quite a refreshing structure due to its appealing history.
Explore World Peace Pagoda Lumbini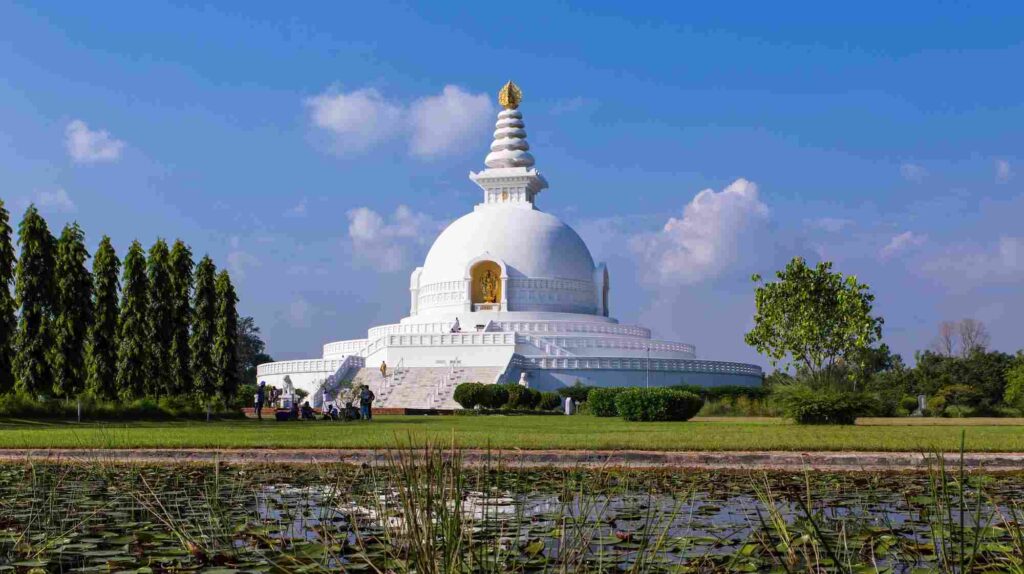 The world peace pagoda, also regarded as the Japan peace stupa, is a symbol of peace that was built in the 21st century. It is one of the major tourist destinations in Lumbini. This world peace pagoda was built by Japanese Buddhists. This glorious stupa is white in color and the giant golden Buddha statue is the jewel on the crown in Lumbini. This monument was built in the early 21st century.
As the name suggests, even the areas around the pagoda are peaceful and serene. You will witness the locals relaxing under the shade of the trees that line the boundary.
Boating In Central Canal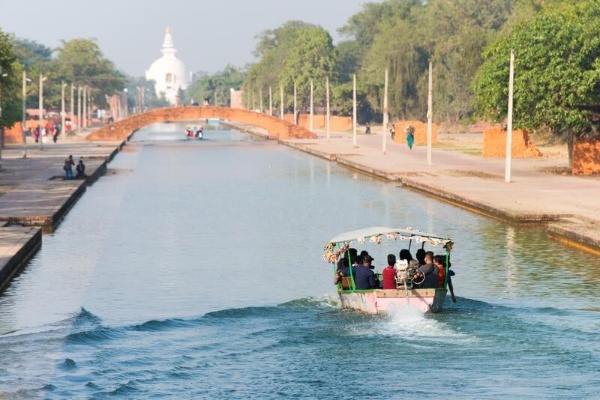 Boating in the Central Canal is another delightful adventure. Whilst boating, you will witness the appealing structures on both sides of the Mayadevi complex. In collaboration with Lumbini development, trust boating is one of the most renowned activities enjoyed by visitors to the Mayadevi complex. This is another appealing adventure, boating in the central canal. While boating here you can witness beautiful structures on both sides of the Mayadevi complex. You can also find outboard motorboats that carry trips at each end of the canal.
The Eternal Peace Flame
Another massive attraction of the Lumbini area is the Eternal Peace Flame, also known as Shanti Deep. This flame burns continuously, for eternity. A lot of tourists are attracted to this flame that burns for peace. The Eternal peace flame is situated at the southern end of the canal in Lumbini. It is one of the major attractions in the Lumbini Garden. This flame was created in 1986 to celebrate the international year of Peace. The eternal peace flame in Lumbini was brought from the United States Of America for promoting peace and harmony among the nations. 
Lumbini Crane Sanctuary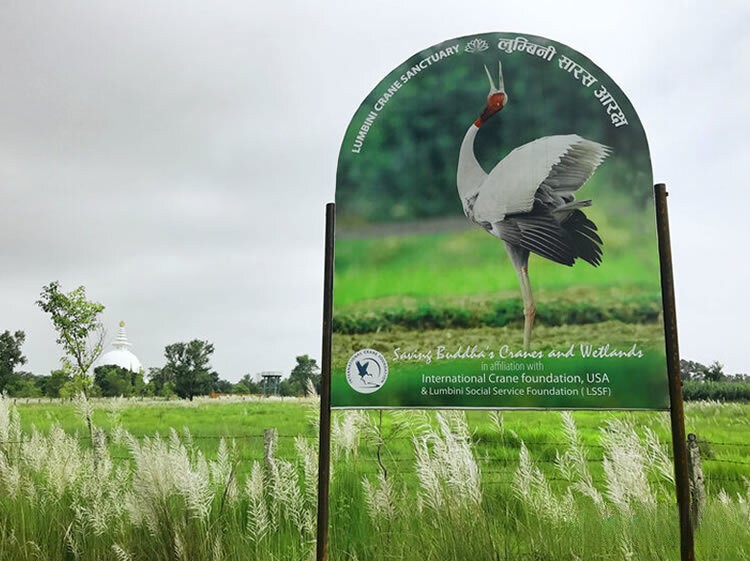 The wetlands surrounding the world peace pagoda are preserved as a crane sanctuary and you will get a chance to witness rare Sarus cranes roaming through the fields. The entrance gate is right before the gate of Pagoda. It is one of the most attractive spots in Nepal and is definitely worth a visit. 
This sanctuary is spread over an area of 6 square kilometers that carries the ruins of the palace of Tilaurakot where Gautam Buddha spent 29 years of his life. This sanctuary was set up by the International crane foundation in the early 90s. This is a must-visit for anyone interested in wildlife adventure.
Cycling Tour Around
If you want to gain more insight into the local culture, we recommend you explore the rural parts rather than the modern town. Renting a cycle and exploring the village on two wheels can be idealistic for sightseeing. You will find numerous options for sightseeing around the monastery area.
You can ride via rickshaw rather than booking a cab. However, it might get difficult during the summer as the temperature rises from 40 degrees Celsius. The roads here in Lumbini are flat which makes it easy to ride a bicycle. The weather is generally warm and the traffic is minimal. As you ride your bicycle, you will pass by local huts, yellow mustard fields, rice paddies, and other additional surprises.
You will witness farmland with goats, buffalos, oxen, and friendly locals. You will witness the rare sightings of ancient agricultural methods that are still working to date. You can easily rent a bicycle on an hourly, or daily basis. It is cheap as well as a convenient option for exploring Lumbini.
Signup For Meditation Class
With the chaotic and hectic everyday schedule in the 21st century, there is barely any time to relax and unwind. So, meditation has become a crucial practice. There are numerous forms of meditation that have immense benefits.
You can find several meditation centers inside the premises of Lumbini. You can give it a try and reap the benefits of meditation practices. Lumbini is an ideal place for doing your meditation practices. You will get assistance from several Buddhist monks. With these major attractions, this place attracts a lot of Buddhists and Hindu devotees.
Some of the meditation classes in Lumbini include; Panditarama Lumbini Vipassana Meditation Center, Dhamma Janani Vipassana Meditation Center, The World Center For Peace And Unity, European Buddhist Monastery, Bramha Kumaris Bhairahawa. These meditation centers are the facilities dedicated to where courses are held regularly throughout the year.
Conclusion
Lumbini is a holy place and several tourists visit this place for significant spiritual experiences. You will also get an opportunity to witness numerous monasteries built by various Buddhist countries including; Germany, Japan, Sri Lanka, Cambodia, Myanmar, and China. While you visit these peaceful monasteries, you will get a chance to bask in the serene, spiritual environment.
You can try out numerous things in Lumbini. But if you are looking for a deeper and more immersive experience then you can visit Buddhist meditation centers. You can indulge in meditation and yoga therapy. You can also involve in interaction with the Buddhist monks who serve in these monasteries. This rare opportunity will leave you feeling more vibrant, lively, and woke from the inside. If you would like to take up this rare opportunity then connect with Bold Adventures on 7 days Buddhist Pilgrimage Tour.